So, there it is. This book provides you with a recipe for creating your own unique Business Hierarchy of Needs® from the ground up. It can be adapted to any business, functional organization, and team, and even to individual contributors. It brings a clarity of purpose, as well as defined and measurable objectives, and it provides stakeholders with a higher level of confidence in the expected result. It takes you to the top of the heap for funding and resources. You will just have to trust me on this one, because when I was in the C-suite and on boards of directors, I wanted to see this type of integrated approach to strategy and other major initiatives. When I saw it, I knew that the people presenting understood the challenges they were facing and had a fully integrated plan for achieving their objectives. Building your Business Hierarchy of Needs® requires three things:
Appropriate planning and foundational work, as defined in Level 1.
A Detailed Knowledge and Change Management plan, as defined in Level 2.
The resources for implementation, as defined in Level 3.
You should use the check sheet in this section as your planning tool. If you engage us to help you with this process, we will start with the check sheet as well.
If you are leading a corporation, your head may be spinning at this point because developing and successfully implementing business strategy is challenging work. If that work is not done in an integrated fashion, results will be marginalized or, in the worst of cases, your strategy will fail. This one thing is why most strategic plans do not realize their full potential. The approach I have outlined in this book has some basic themes:
Understand your customer needs.
Create one Most Important Goal that everyone is committed to achieving.
Leverage your value proposition.
Involve ALL stakeholders in developing your Business Hierarchy of Needs®. Get alignment and agreement.
Properly prepare the bridge between strategy and results (people and organizational design).
Maximize the use of technology.
Create an implementation roadmap.
Stay involved but get out of the way.
You cannot do this alone and your first big challenge will be to get everyone to agree on this approach. The important thing to remember is that this is a process that is designed to spread the load across the entire body of stakeholders. Do not start this process if you are not committed to it. Leadership often gets excited about an innovative approach but loses interest in it over time. The Business Hierarchy of Needs® is designed to fully engage all stakeholders so there is less pressure on leadership to maintain momentum.
This process is evolutionary and achieving a "Culture of Strategic Execution™" takes time. Do not be impatient because the process needs to be nurtured. The first time you develop your Business Hierarchy of Needs® will be the most difficult because it is likely the first time you have linked all aspects of your business to strategy and taken the time to make sure every stakeholder understands the strategy, agrees to be accountable to their goals and objectives, and understands how their compensation is tied to it. I highly recommend using outside resources who understand the elements and know how to create a fully integrated plan the first time you do this. In the resources section of this book, you will find a series of workshops and assessments that my consulting firm, Group50® Consulting offers in support of this. We can facilitate the entire process for you or help you with the sticky areas. We have done this implementation dozens of times and can save you from a false start. You typically only get one shot at this, so we can help you make it work!
In companies we work with, it's a three-to-six-month process to put the strategy together and it's a multi-year process to achieve strategic maturity. When done properly, with the proper engagement, watch out, because you will see activity and results like never before. Those results will be immediate and long lasting. You will see stakeholders in your organization do things you did not think was possible. Why? Because you have them fully engaged. Remember the numbers from the Gallup Survey: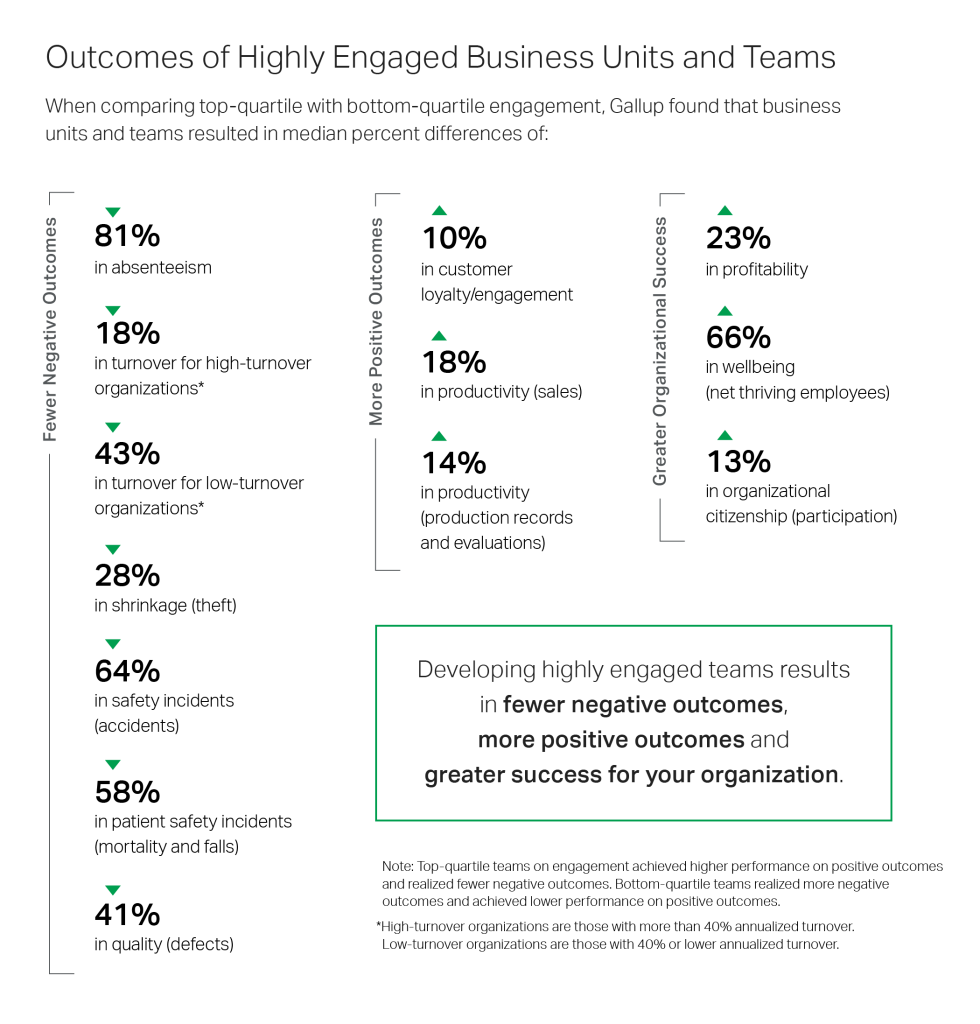 I have seen many examples of these eyepopping numbers during my career and have shared some of them with you. There are many more. Do not underestimate the skills and capabilities of your stakeholders.
As the business improves its level of strategic maturity, a wonderful thing happens. Stakeholders continue to evolve their understanding of the company's MIG, its strategies, and their role in achieving them all because everything is tied together. They become more aligned and agree to their accountabilities. They are less frustrated. They understand the big picture and know they are an important part of realizing the company's MIG.
You will know that you have achieved strategic maturity and a "Culture of Strategic Execution™" when you can walk up to any stakeholder and they can talk about the company's MIG and their role in helping to achieve that. While most companies will believe this thought is aspirational, it is possible and will yield significantly better results for your business.
This has been a fun book to write, because it encapsulates what I have learned over the last forty-five years and everything we have been doing to help clients achieve strategic success over the last eighteen years. I wish you all the best in your journey to realizing a "Culture of Strategic Execution™" in your company.